4. Club Photo Album
These are the events, people, and things that relate to our organization.
Riverside Park, La Crosse, WI May 25, 2003

Dolores Marusarz found her first time working plein air to be immensely satisfying. She immediately learned the necessity of preparing a sketch with notations to indicate where the sunlight and shadows were at the start of the session. The changing light in the five-hour paint out made an enormous difference in the lighting.

This painting of Goose Island by Jennifer Ash was "in the making."

The Mississippi River with MN bluffs beyond
Torn-paper collage by Barbara Decker

Barbara has a big book of wallpaper samples which she expertly tears into pieces and glues down to sturdy board to show her image of scenery. She occasionally will touch up a piece with acrylic paint before matting and framing the collage painting.

Linda Raymer paints on Goose Island July 20, 2003.

Amy DuPont and Alex Saucedo on May 25, 2003


Come take the Plein Air Challenge with materials we provide!

Amy and Alex took the Plein Air Challenge when they got inspired by the artists and the beautiful scenery they were painting outdoors along the east bank of the Mississippi River at La Crosse's Riverfront Park. All the materials they needed were provided free by the La Crosse Area Plein Air Artists and through the generosity of Ben Franklin Crafts.



Barb Decker's collage of Colorado

Burt Hammons paints on Goose Island July 20, 2003.

Burt spent a number of years doing technical drawing. Now he combines his precise renditions with highlights, shading, and life. Here he paints in acrylics.



Barbara Decker creates a collage of the Mississippi River.
Pat O'Hara is joined by three young painters on July 20, 2003.
Pat is a budding artist who faithfully joins our group at nearly every paint out. She brings a fresh view and a natal enthusiasm to her work. She approaches each piece joyfully.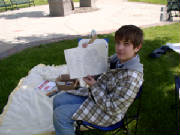 Alex Saucedo shows his drawing of the Big Blue Bridge over the Mississippi River.